Papa Louie's Ghosteria
Papa Louie's Ghosteria is a comic-like fan fiction written by us
Following a discussion about the texts Notes on Deconstructing The Popular by Stuart Hall and 'Game Modding: Cross-Over Mutation and Unwelcome Gifts' from The Player's Power to Change the Game by Anne-Marie Schleiner, we started dissecting the ideology behind the games we have played as children. To do that, we utilised several prompts to help us examine the ideology that two popular video games enforce through their narrative and gameplay.
The list of questions we needed to answer while playing the game includes:
What are the win conditions?
If the game is quest based, what types of quests are you asked to complete?
What is the gameplay?
What is the narrative?
How much space is there for alternative ways of playing this game?
What is missing?
What type of relationships are you allowed to form?
What is the role of non-player characters?
What are the requirements for surviving the game?
Which behaviours are rewarded?
What real-world values are reproduced in the game you are playing?
How are you situated in the hierarchy of the game?
What change in status is promised?
What are you being trained for?
What fantasies are lived out or explored?
Our team — Irmak, Ada and Boyana — worked on the famous Papa Louie: When Pizzas Attack. Soon after we started investigating the game, its elements and modifications, we discovered that other players had already written heaps of fan fiction about it. We were bewitched by the multitude of stories fans have written and the really good memes they have created about Papa and his businesses. Yes, plural. Papa's Freezeria. Sushiria. Donuteria. Burgeria. PanCakeria. CupCakeria. Taco Mia. Taco Mia To Go. You name it.
After spending some time analysing the ideology behind the game, we discovered a few elements that reinforce a capitalist narrative, such as the need to fight to survive and collect coins to purchase weapons. In response, we decided to create a new version of the game with a storyline that focuses on healing and coping as a response to grief and loss, rather than violence. To link the new storyline to SIXX's topic we added ritualistic elements as actions during the gameplay.
What was changed was the topic, purpose and outcome of the game. Papa no longer fought to save his customers, but he dealt with his loss and grief over what happened. Our version promoted rest and rituals for healing instead of revenge-seeking, violence and toxic pizzeria culture.
We started by putting some keywords and suggestions on a blackboard about "How To Cope With Grief" and "How to Use Rituals and Ceremonies to Overcome Grief" to define what Papa Louie lost and what rituals could help him heal.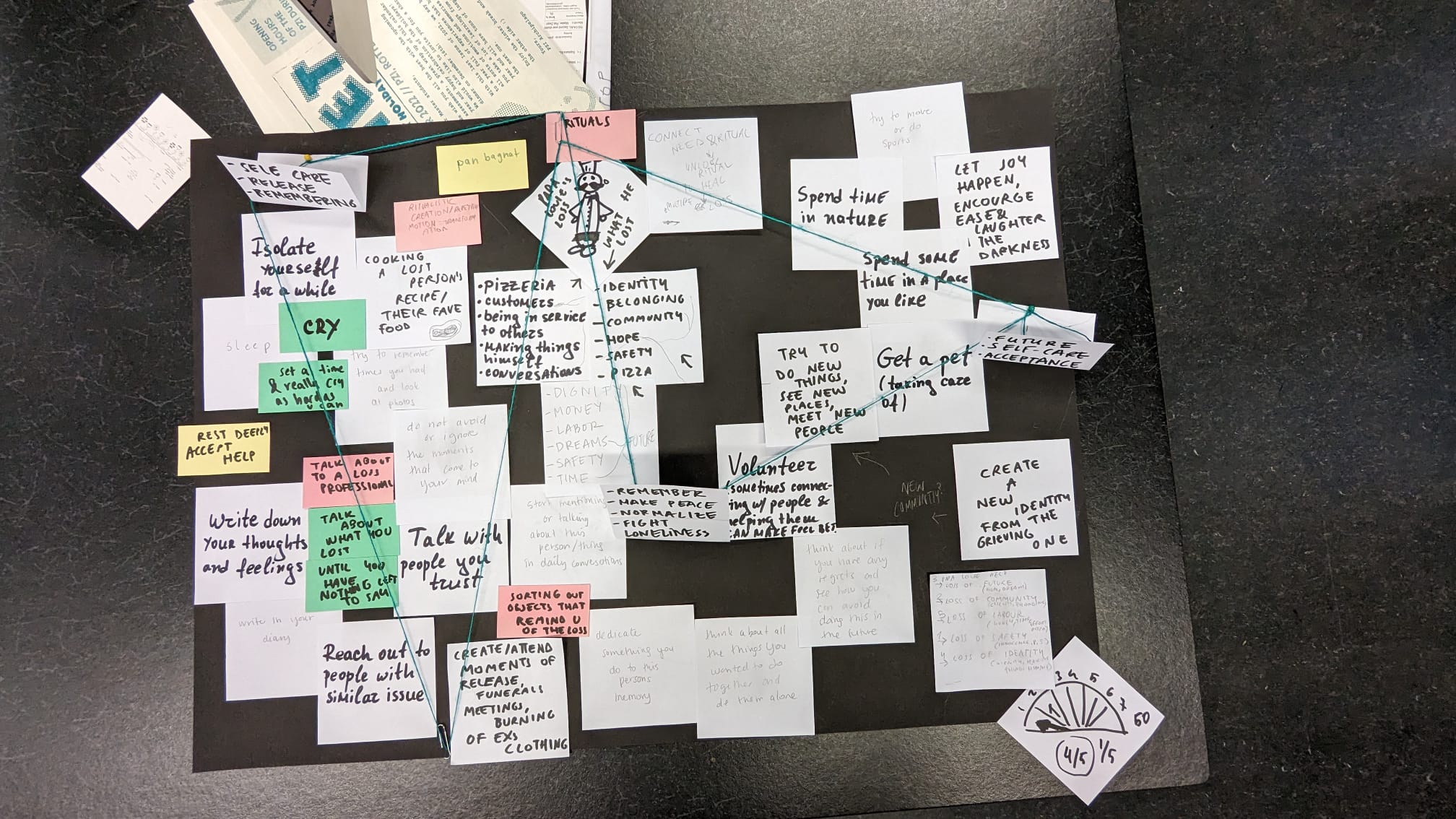 We then made a comic-like storyboard that visualised the new narrative for Papa Louie's Ghosteria. To create a few scenes depicting some of the five levels we outlined, we used an app called Papa Louie Pals. The images turned out pretty nice! Playing around with the app was fun mainly because it allowed us to materialise our idea in just a couple of hours.
The gameplay revolves around things Papa lost and the needs he needs to fulfil. Different types of losses are organised into the five levels of the game:
loss of safety (innocence, physical safety)
loss of community (clients, belonging)
loss of future (hope, dreams)
loss of identity (dignity, making things himself)
loss of labour (money, time, effort, pizza)
To cope with grief Papa Louie performed various rituals, each unlocking a new stage in his grieving process and healing from that loss. Rituals thus are the actions players needed to execute at each level.
And so our story went like this: The Onion Ring Mafia kidnapped Papa Louie's clients, and he lost his Pizzeria. However, along with this external change, he lost his identity as a pizza owner/maker. He was full of grief and sought ways to cope with grief and ease himself. He tried different rituals throughout this process, built his new identity and overcame his troubles.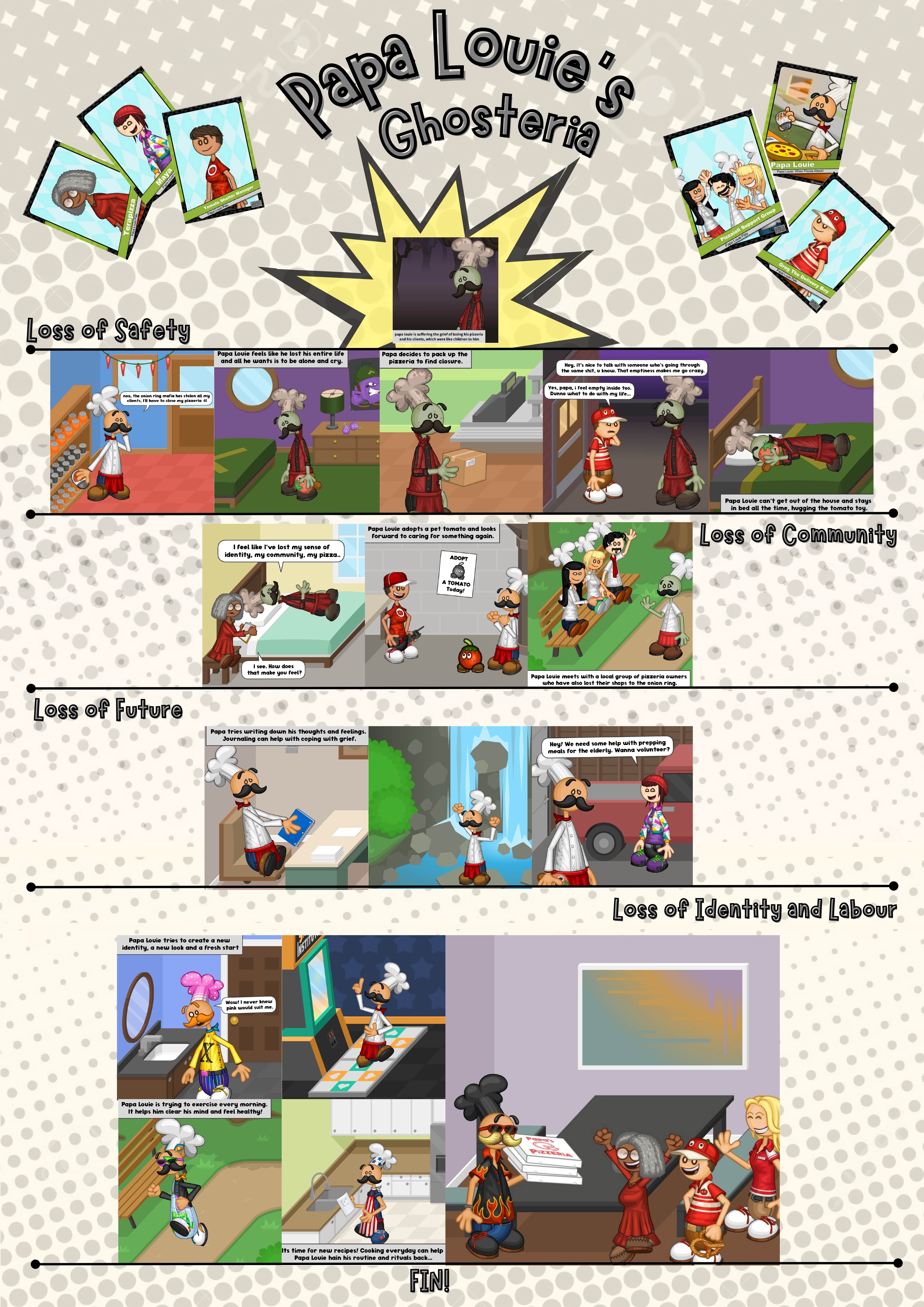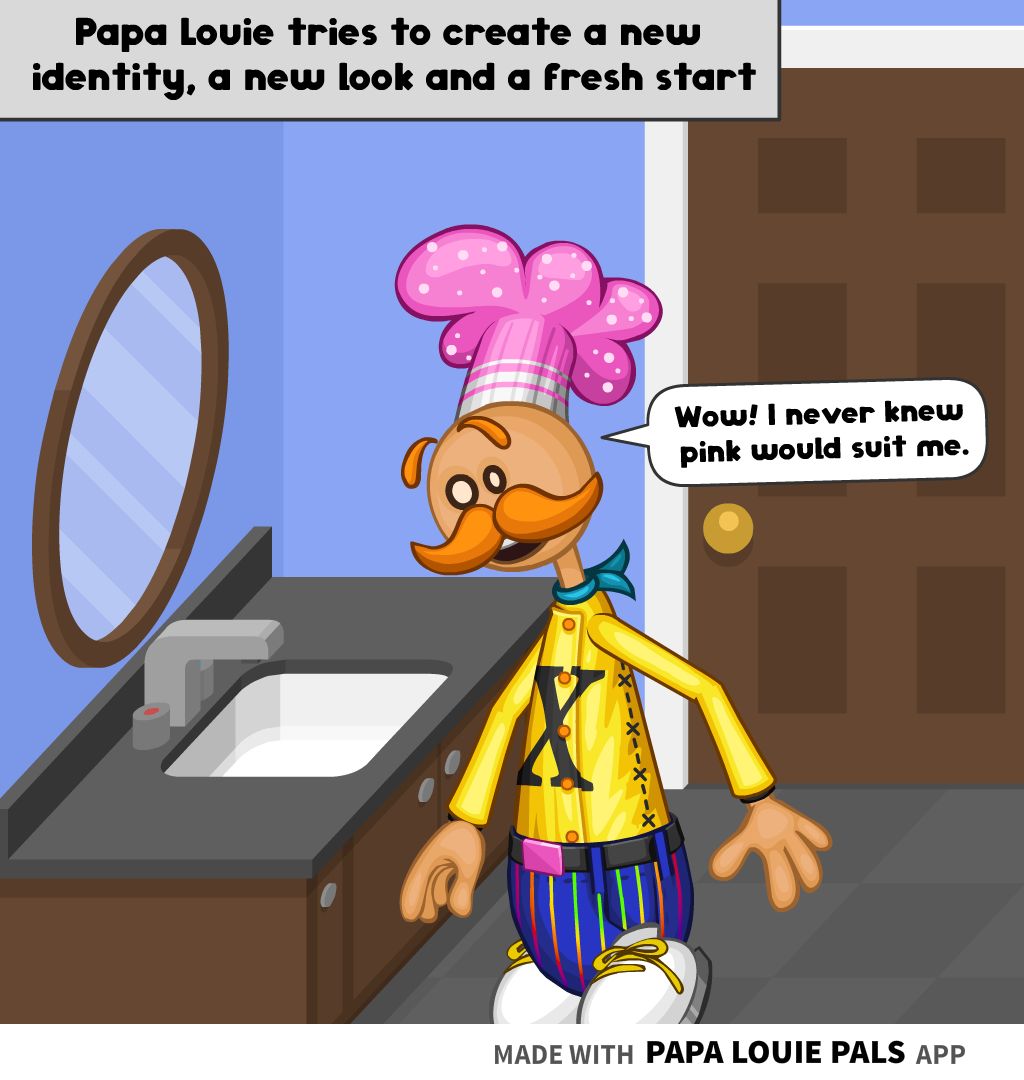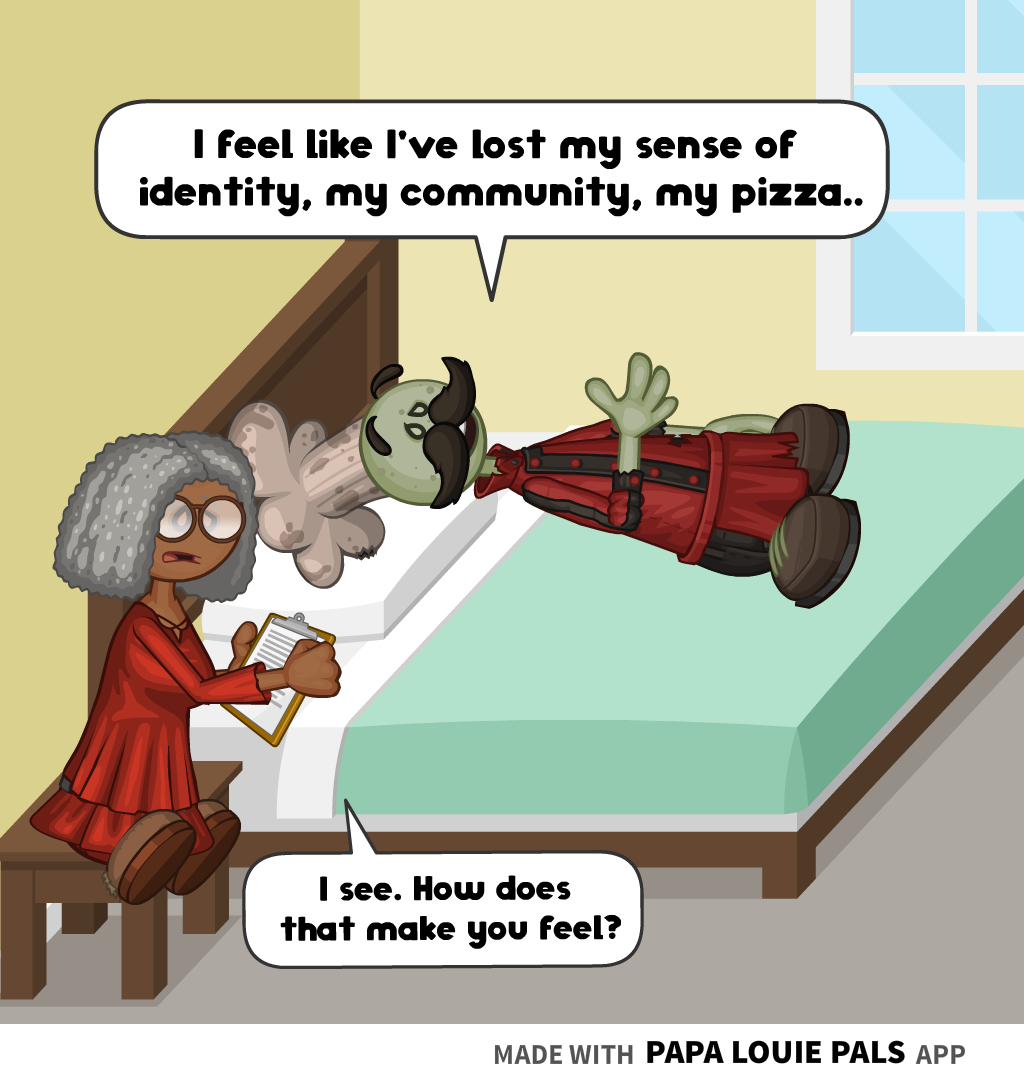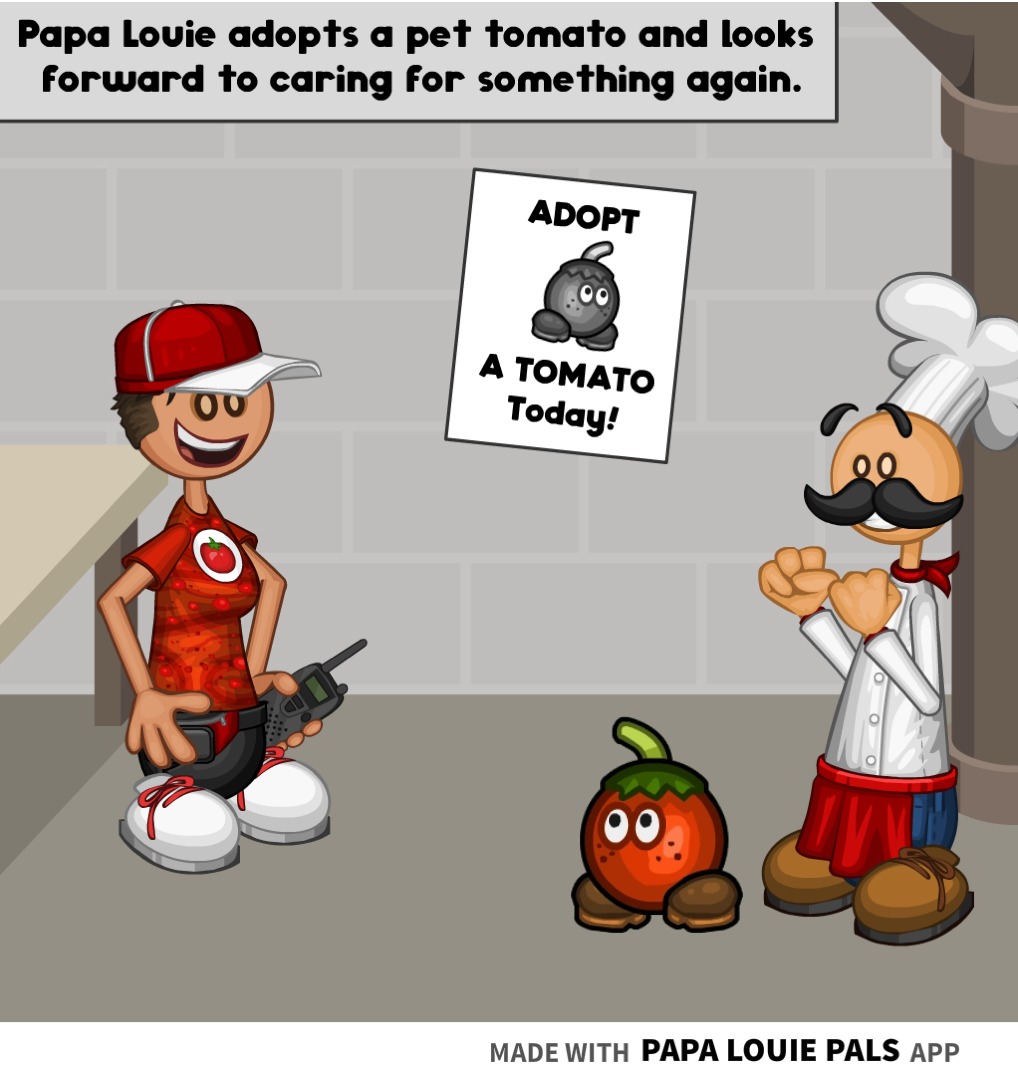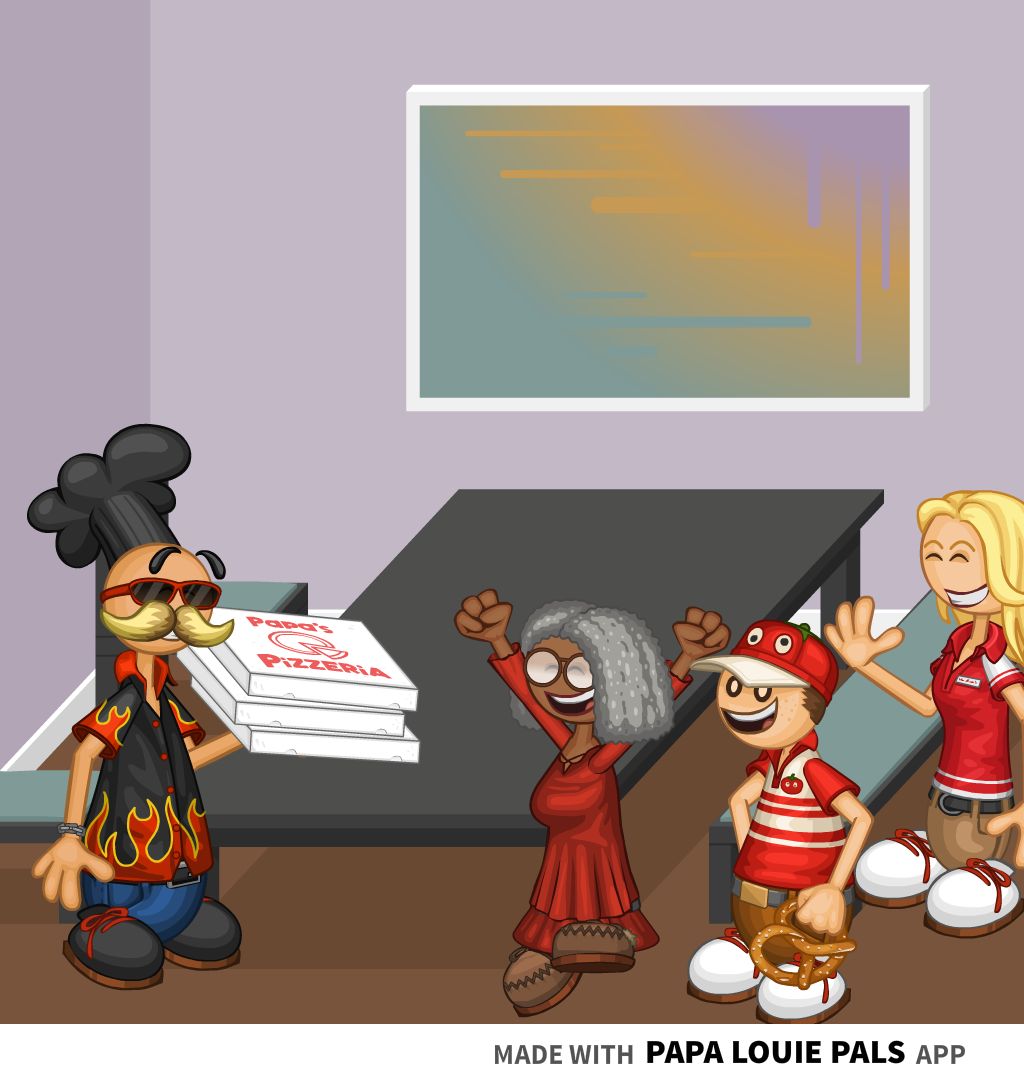 Papa Louie's Text-Adventure Healing
Following this comic production, a small text-adventure Pyhton game was developed following the same storyline. The game was fundamentally an explorative game in which the player could follow four levels of healing. Playing as Papa Louie and helping him heal his shattered soul, the player would go into each room and type "take" or "carry" to pick up possibilities for healing. The possibilities for each room were:
1. empty pizzeria: [closure, catharsis, anger]
2. living room: [connection, understanding, support]
3. study room: [expression, hope, new experiences]
4. bedroom: [self-discovery, self-care]
5. kitchen: [work, nourishment, purpose].
Once one had picked up enough healing chances, the game would end and thank you for healing Papa. The following picture shows the introductory illustration.